INGREDIENTS
Fish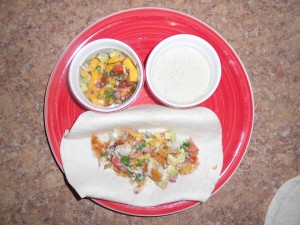 Use any kind of fish that you like. I used our Lime Chipotle Tilapia.
Mango Salsa
1 chopped jalapeno

1 mango, diced

1 avocado, diced

1 Roma tomato, diced

1 clove garlic, finely chopped

1/4 chopped cilantro, chopped

2 tablespoons lime juice

1/4 red onion, finely chopped

1 tablespoon olive oil

salt and pepper to taste
Creamy Cilantro Dressing
2 T salsa verde

1/4 to 1/2 tsp cayenne pepper

1 pkg buttermilk ranch dressing mix

1 cup mayonnaise

1/2 cup sour cream

1/3 to 1/2 cup buttermilk

1/2 bunch cilantro (with stems)

2 cloves garlic, minced

Lime juice from 1 lime
DIRECTIONS
Mango Salsa
Dice and mix all ingredients.
Chill for an hour.
Creamy Cilantro Dressing
Add ingredients to a blender and puree until smooth.

Chill 1 hour.
Fish
Bake or pan fry until done.

Cut up into bite size pieces and add to soft tortilla.

Top with Mango Salsa and Creamy Cilantro Dressing.


Serve with a side of brown rice