INGREDIENTS
For Stir Fry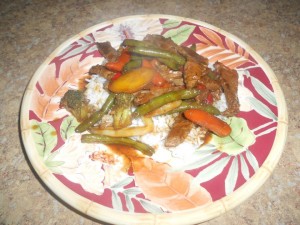 Sirloin (however much you need)

Frozen Veggies (however much you need)
For Sauce
1 Pkg brown gravy

2/3 c water

1/4 c soy sauce

1/3 c dark corn syrup or molasses

1/4 c oil

1 Tablespoon white vinegar
DIRECTIONS
Whisk all ingredients together. Now is is the time to add a little heat if you want. I add just a little crushed red pepper flakes

.

Cut up your meat and heat in a large skillet with 1 TBS Olive Oil until browned.

Add frozen veggies (I like a combination of peppers, onions, squash, and carrots…but you can use whatever frozen blend you like best).  Steam until firm, but not mushy.

Pour sauce over meat/veggies and toss until sauce has thickened and ingredients are coated evenly.

Serve over your favorite rice.

**You can also make this with Chicken, just used boneless skinless chicken breast and substitute chicken gravy for the brown gravy mix and Teriyaki sauce for the soy sauce

.