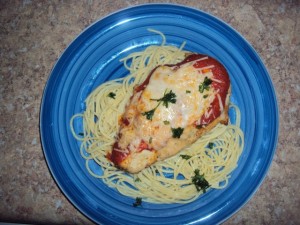 INGREDIENTS
4 chicken breasts cut into halves
¾ cup seasoned Italian breadcrumbs
¼ cup grated Parmesan cheese (I used freshly grated)
2 Tablespoons of melted butter
1 cup of marinara sauce
¾ cup mozzarella cheese
Cooking spray
DIRECTIONS
Heat oven to 450 degrees and spray large cooking sheet with cooking spray. (I lined mine with foil first to keep chicken from sticking.)
Combine breadcrumbs and parmesan cheese in a bowl. Melt the butter and lightly brush the chicken, then dip in breadcrumb mixture. Place on baking sheet and repeat for remaining chicken.
Lightly spray a little cooking oil on top of the chicken and bake in oven for 20 minutes. Turn chicken and bake for another 5 minutes.
Remove from oven and spoon marinara sauce over chicken and top with shredded mozzarella cheese.
Bake 5 for minutes until cheese is melted.